Robert Allomes (aka Robert Alomes or Robert Carter)
Robert Allomes arrived in Van Diemen's Land on the Ocean in 1804. The first reference to him is in The Historical Records of Australia Series III Vol.1, p.107 where he is included in a list of persons victualled 17 October 1803, described as a Sergeant. On page 343 he is described as a private in the Royal Marines in a list of Marines at Hobart Town 18 December 1805. In The General Muster of 1818 for Buckingham he is described as 'came free'. His name appears in the Landholder's Muster of 1819 for Buckingham as the owner of 30 acres in The Pittwater district with a wife and 5 children.
He was the first man as sergeant of marines under Lieutenant-Colonel David Collins, R.M. (afterwards Lieutenant-Governor) to plant the Union Jack at Hobart Town at the spot where Risby Bros' mill was formerly located. A full list of those who arrived with Lt. Gov. Collins was placed on the monument at Macquarie Wharf and unveiled on the 20th February 2004 by the First Settlers Association.
On 21 August 1809, as Robert Carter, he married Elizabeth Bellett (or Billett) the daughter of Jacob Bellett who was transported on The Scarborough in the First Fleet. Jacob Bellett (senior or junior) and Francis Barnes were witnesses to the marriage which was celebrated by Rev.R. Knopwood.(NS 282/8/1).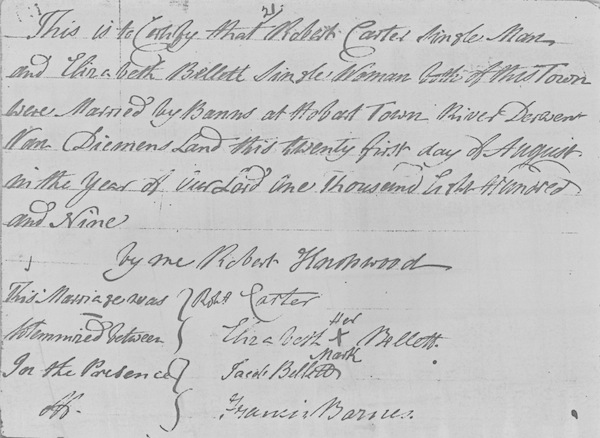 The following baptisms were found of children born to the couple, some under the name of Carter and others under the name of Allomes:¬
| | | |
| --- | --- | --- |
| Emmaline (Carter) | baptised 29 July 1810 | Married John Morrisby 9 Sep 1828 |
(NS 282/8/1; 432/1 (Sorell) (St Davids)

A census return for Richmond in 1842 shows Richard Allums [sic] at Ralph's Ray, property by the name of Home Fields. On the return are :- 1 married male aged above 60 years, arrived free. 1 married female aged above 45-60 years, born in colony. 3 single males aged 21-45, born in colony. 1 single female, aged 7-14, born in colony. I single female, aged 14-21, born in colony. 1 single female, aged 21-45, born in colony. All were Church of England.

Amelia Allomes married John Watson of York Grove, Sandford.

Robert Alomes was buried 5 September 1853 at St Matthews Church, Rokeby, described in the Clarence Plains register as a farmer aged 83 years. (NS 373/12). His widow Elizabeth Alomes of South Arm died 24 December 1866 and was buried 26 December 1866 aged 75 (St Barnabas Anglican Church, South Arm). Robert Alomes, junior, of South Arm was buried 1 February 1860, aged 39. (NS 334/5).

Janet Alomes of South Arm, wife of George was buried 9 December 1864 aged 29, and Alice Cecilia Alomes, daughter of George was buried 15 December 1864 aged 8. (NB 3M/5).

Emmaline Alomes married John Morrisby 9 September 1828 (Sorell & Richmond Register NS 432/1). Baptisms of three of their children were :-
| | |
| --- | --- |
| George Thomas | born 10 June 1829, baptised 9 August 1829 |
John Thomas Allomes died 27 November 1922 at his residence, Edward Street, Sandy Bay, husband of Mary Ann Alomes in his 73rd year. His obituary described him as a president of The Glebe for 30 years, a member of The Glebe Tour Board and a church warden of Holy Trinity Church. He left a widow and 4 children (Mercury 28 November 1922).
George Alomes, husband of Agnes Mary died at his residence Rosemount, South Arm, on 12 November 1922, aged 97. His obituary said that he was the son of Robert Alomes of Sorell, who, it is said, was a son of a Colonel Carter who had married a Miss Alomes. Robert Alomes received a good education in Dublin, becoming a medical student, but in consequence of a family quarrel he enlisted under his mother's name and after service at Gibraltar became a sergeant in The Royal Marines and reached Hobart with Governor David Collins in 1804. He married about 1808 a daughter of Jacob Bellette of Sorell and acquired considerable real estate and settled there. Mr G.T. Alomes in 1848 left Sorell and went to South Arm and acquired Rosemount which became his home for 74 years. The Alomes and Morrisby families became connected by marriage.
A Richard Alomes was employed at Goose Island Lighthouse 1886-89. He was then a married farmer aged 34. He was also employed at the Derwent lighthouse 1889 - 1891 and the Maatsuyker Lighthouse 1891-92. (Index Civil Servants).
Kay Merry, descendant of Robert Alomes and member of the Hobart Town (1804) First Settlers Association has written a paper on Robert Alomes and the mysteries surrounding his background. You can download by clicking here.