Edward Chaplin
Edward Chaplin was convicted at the Old Bailey, London, England for stealing 12 shillings worth of lead from the roof of Widow Pugh's house at 36 &37 Sloane Square London on 14 June 1817, aged 16. Following his arrest and during the trial, he was imprisoned in the gaol at Newgate. Prior to his conviction, he was an apprentice bootmaker in Chelsea, London. He was convicted on 2 July 1817 and sentenced to 7 years transportation by Lord Tenterden (later Lord Chief Justice of all England). Details of the court proceedings can be read here .
Following his conviction he spent further time in prison at Newgate Gaol. Edward was transferred on 7 August 1817 to the convict hulk Leviathan moored at Portsmouth, England to await transportation.
After four months on the hulk, Edward was boarded onto the ship Lady Castlereagh. The ship departed on 22 December 1817 bound for Sydney. It arrived in Port Jackson on 30 April 1818 with 300 male convicts aboard. There were no female convicts. There were 39 convicts landed at Sydney and then the ship continued on to Hobart Town in Van Diemen's Land.
The Description Register for Edward indicates he was 17 years old, 5'4" in height, had dark brown hair and brown eyes.
Between 11 June 1818 and 1824, he worked as a convict farm labourer. During this time, the Conduct Register indicates he behaved himself very well.
In a convict muster dated 1819, he is shown as convict. In a muster dated 1822 he is shown with a ticket of leave. Edward received his Freedom Certificate on or around 27 July 1824, close to seven years to the day when he was sentenced to 7 years transportation.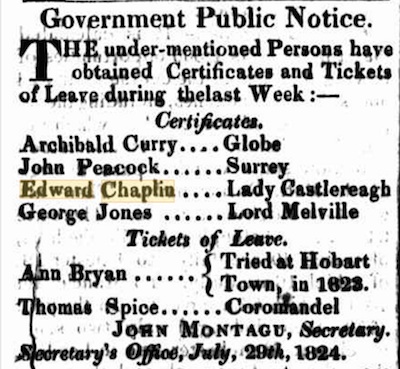 On 13 July 1829, Edward married Sarah Campbell. Edward was 28 years old and Sarah was 13 years old. Sarah was born in Hobart on 28 September 1815 and was married two months before her 14th birthday! Sarah's father James Campbell was a convict from Scotland and it is thought he worked on Edward's farm. There was a shortage of suitably aged women in the Colony for marriage at this time and it is likely that as a favour to Edward, James agreed for his daughter to marry Edward.
Between 1825 and 1831, Edward rented a farm. He grew oats and barley, wheat and hay and owned bullocks. He was very successful with his farming pursuits.
In 1831, Edward received a land grant from Lieutenant-Governor Arthur of 320 acres at Broadmarsh. The record indicates the order was made on 24 April 1831 and the land was in Pelham Parish. Edward named his property "Rosebud" in the area known as Black Brush, near Brighton.

Edward and Sarah had a family of five children who were born between 1830 and 1839. Unfortunately Sarah died 16 August 1839 aged just 23 years old, six months after the birth of her last child. Cause of death was gangrene (shown as 'mortification' in the death record) but no other details are known.
Edward was left with five children (all daughters) aged between six months and ten years old.
An application for 'permission to marry' for Edward (free) and Margaret MacKintosh (convict) was made in March 1841. Margaret had only been in the Colony 17 months. Margaret had been convicted in Inverness, Scotland for sheep stealing, and was sentenced to seven years transportation at aged 15. Margaret arrived on the ship Hindostan (1) which departed London on 9 May 1839.
Edward married Margaret on 12 April 1841. It was a Church of England ceremony by Rev. Palmer at Trinity Church on the corner of Brisbane and Campbell Streets, Hobart. Edward was aged 40 years and Margaret was 16 years old. It is not known if Edward informed Margaret of his five children before asking Margaret to marry him! It is most likely he did not! When they were married, Edward put his age back 9 years. It is not known when Margaret found out. He claimed to be 31 not 40. On the marriage record, Margaret's age is shown as 19!
Edward and Margaret had eleven children between 1842 and 1862, bringing the total number of Edward's children to 16.
A census in 1842 shows that Edward employed 5 stockmen, gardeners and 1 domestic servant on his farm. His property "Rosebud" had 320 acres of farming land. (Reference 1842 Census - TAHO Record ID : SD_ILS:628301, on microfilm Launceston).
Edward Chaplin and Thomas Branscombe received a land grant of 100 acres in 1844. Interesting that this land was previously granted to James Campbell, Edward's previous father-in-law.
In 1844, Edward had financial difficulties and part of his farm was put up for sale. Despite the financial problems, Edward kept farming and his family continued to grow.
It is understood he was able to pay his creditors without having to sell the farm.
Edward took an interest in community affairs. He joined the Committee of the Brighton Ploughing Association in 1850. In 1851, Edward Chaplin was Hon. Secretary of the Association. For a number of years from 1855, Edward served on the committee of the Brighton Racing Club.
On 4 January 1866, an extraordinary vacancy occurred in the Brighton Municipality, by the resignation of Brighton Councillor Stanfield. As announced in the press, Mr. Edward Chaplin, of the Black Brush, and Mr. James Spence, of Bagdad, were nominated for the vacancy. Mr Spence won! (Refer Tasmanian Morning Herald (Hobart, Tas. : 1865 - 1866) , Thursday 4 January 1866, page 2).
It was reported in the Hobart Mercury in June 1874 that Edward fell into the Jordan River and nearly drowned had it not been for members of his family saving him. Refer The Mercury (Hobart, Tas. : 1860 - 1954) Sat 13 Jun 1874.
Edward Chaplin died on 7 October 1874.
His obituary mentioned that he had been a resident of Tasmania for 52 years and had lived most of his life at Black Brush (Broadmarsh).