Assessment Task 3: Research Report
Research Aim
My GG grandparents, James SHAW, Sophia NEATE, Edward VERRELL and Eliza FAUSCETT, emigrated from Britain to Tasmania in the early 1800s before they were married. Why did they come, where did they live in England, and when did they arrive in Australia?

Key Sources

Primary Sources:
TAS Death Certificate Frederick Shaw 111/1925
The Proceedings of the Old Bailey, 1674-1913 (convict sentences)
John Robinson - Theft > stealing from master, 25th October 1847.
James Henry Shaw - Theft > burglary, 8th April 1844.
Incoming Passenger Lists (repository Tasmanian Archive and Heritage Office)
Birth, Marriage and Death Registrations (TAHO)
Secondary Sources:
AUS-Tasmanian Genealogy Mailing List
Application for admission to the Queen's Orphan School by Sophia Shaw (nee Neate) for Eliza Shaw, November 1860
Application for admission to the Queen's Orphan School for Eliza and Frederick Shaw, February 1862
Ancestry.com Public Family Trees
Not Determined: Trove - digitised newspapers

Biographical Report
Of particular interest during the research of my grandmother's grandparents was the discovery of two convicts. My grandmother never mentioned this background of her family. I'm not sure if she knew or just wanted to keep it hidden. One convict was James Henry Shaw, her paternal grandfather. His sentence was transportation (15 years) for burglary. He arrived in Hobart on the ship Lord Auckland in November 1844. In 1852, he married Sophia Neate, the daughter of a convict Thomas Neate.
Thomas Neate aka John Robinson was sentenced in 1847 to seven years transportation for stealing cochineal from his employee. He arrived in Hobart on the ship Ratcliffe on 12 November 1848. His wife Ann and two daughters Sophia and Frances arrived on the ship Anne Thompson which departed Plymouth on 25 December 1850, arriving in Hobart on 22 April 1851 with 3 passengers, 145 immigrants, the wives and families of convicts.
The information that Thomas Neate was aka John Robinson came from Graham Shaw, a family history researcher in New Zealand. I have been in contact with Graham and am seeking information on the linkage between Thomas Neate and John Robinson.
James Henry Shaw and Sophia Neate had three children. They were James Frederick Shaw (born 1853), Eliza Ann Shaw (born 1854) and Alfred Henery Shaw (born 26 May 1857). Alfred became known as Frederick Shaw and was my grandmother's father. Before Frederick was born, his father deserted his mother and left for New Zealand with a new partner Julia Lazarus and his elder brother James Frederick Shaw. James Henry Shaw changed his surname to Sharland and James Frederick Shaw became James Frederick Sharland. James Henry Shaw aka Sharland and James Frederick Shaw aka Sharland remained in New Zealand and died there. In 1860, Sophia Shaw applied for the younger of the two remaining children to be admitted to the Queens Orphan School. Information provided in the application indicates the father (James Shaw) 'no doubt' left his wife with the eldest child as she had had 'a loose life', was habitually intoxicated and known as 'being a prostitute'.
In 1862, a second application was made for both of the remaining children to be admitted to the Orphan School following the death of their mother at aged 30 years old. It is fortuitous that the application provides information on the parents, including how they arrived in the colony, their current residency and employment. The information for Frederick incorrectly records that he was three years old as he was actually five years old at this time. Of the mother the application states 'when alive pursuing habits of prostitution and of repeated acts of (wording unclear) but now deceased'.
My mother had always believed that her grandfather (ie my grandmother's father, Frederick Shaw) had always been an only child. He is buried at Cornelian Bay with his wife and two children who died in infancy. Frederick's older brother James Frederick Shaw aka Sharland lived and died in New Zealand. I haven't yet been able to find out what happened to his sister Eliza Ann Shaw.
On the other hand, it is clear that my grandmother's maternal grandparents were free settlers. Her grandfather Edward Verrell arrived in Hobart from Ireland. This information is provided on his death record. More research is needed to find out where he was born and how he arrived in Tasmania.
My grandmother's grandmother Eliza Catherine Fausett (sometimes spelt Fawcett or Fauscett) arrived in Hobart on 25 December 1854 on the ship William Hammond via Plymouth from Fermanagh, Northern Ireland. According to the record of passenger arrivals, she was 22 years old and arrived with no other family members. Her religion is indicated as Church of England. The remarks seem to indicate that she left due to there being some issue with her parents.
Edward and Eliza were married at St Josephs Catholic Church, Macquarie Street, Hobart on 23 September 1858. As Eliza was a Protestant, this would suggest Edward was Catholic. It is likely that they immigrated to escape the Great Famine and/or other upheavals that were occurring in Ireland at this time. A very large number of people immigrated from Ireland due to famine and political issues.
The Verrells had eight children, seven sons and one daughter Eliza Esther Verrell who was my grandmother's mother. She died when my grandmother (Ethel Shaw) was less than two years old. Ethel and her older sister Hilda were raised by a couple who were family friends. A son of the Verrells, Edward Verrell operated a photography business in Hobart in the late 1800s.
Conclusion
My research has shown up some very interesting information that my family had not known previously. The family had thought that my grandmother's father Frederick was named James Frederick Shaw and had no siblings. The research has found that he was named Alfred Henery Shaw but became known as Frederick. He had an older brother who was the James Frederick Shaw and was taken to New Zealand by his father. The Sharland story and the information contained in the orphan school applications were new, very interesting and intriguing to read!
My grandmother believed the Verrells had some French connection but to date I have not been able to find such a link. Her maternal grandparents were in fact Irish immigrants apparently fleeing the chaos in Ireland during those times.
Ancestral Chart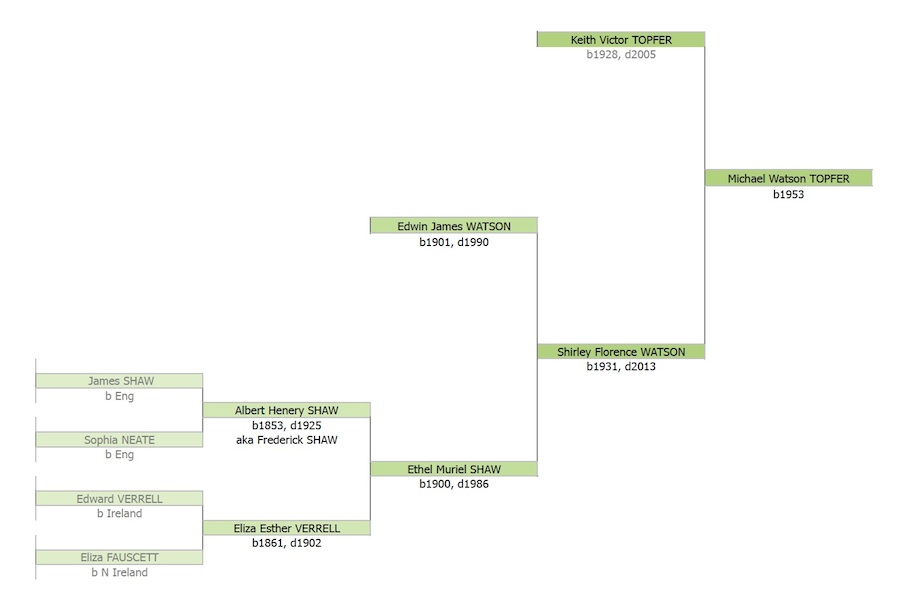 Family Group Chart